AGENDA
International Forum for the Trilateral Cooperation 2014
Unity in Diversity - Fostering East Asian Identity & Spirit of Community
Opening Session

Welcoming Remarks & Congratulation Remarks

Welcoming Remarks:
•Mr. IWATANI, Shigeo - Secretary General of the TCS

Congratulatory Remarks:
•Mr. BANG, Sang-hoon - President of Chosun Ilbo, the ROK
•Mr. JU, Chul-ki - Senior Presidential Secretary for Foreign Affairs & National Security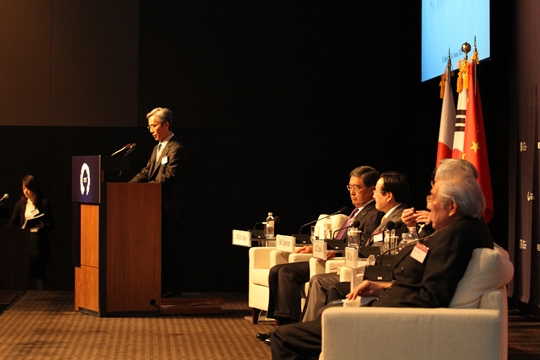 Session 1.

Keynote Speeches

•Mr. Zhao Jinjun, President of China Foreign Affairs University
- "expansion of social and public engagement as a facilitating force for governmental cooperation among the three countries"

•Mr. Kim Sung-hwan, Chair of SNU Institute for Global Social Responsibility, Former ROK Foreign Minister
- "starting cooperation in softer and less controversial areas, such as natural disasters, commodity distribution and cultural exchanges, as the first step towards "trustpolitik"

•Mr. Ogura Kazuo, Senior Advisor to the Japan Foundation, Former Japanese Ambassador to the ROK
- "encourage dialogues between the citizens as well as the strategic ones among the political leaders TCS would continue to play its role as a catalyst in the process of people-to-people exchanges"
Session 2.

In Face of Uncertainty and Calling for New Thinking

Moderator
•Mr. PARK, Je-Hoon - Professor, Incheon National University, the ROK

Speakers
•Mr. PARK, Cheol-hee - Professor of Seoul National University, the ROK
•Mr. AMAKO, Satoshi - Professor of Graduate School of Asia-Pacific Studies, Waseda University, Japan
•Mr. ZHANG, Xiaoming - Professor of Beijing University, China
•Mr. WUCHTE, Thomas - Head on Anti-terrorism Issues, Action against Terrorism Unit, Transnational Threats Dept, Organization of Security and Co-operation in Europe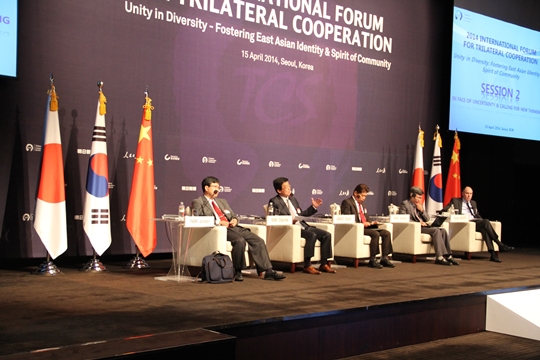 Session 3.

Wisdom of Integration

Moderator
•Ms. SOHN, Jie-Ae - Former President and CEO of Arirang TV and CNN Bureau Chief in Seoul

Speakers
•Mr. VNUKOV, Konstantin V. - Ambassador of the Russian Federation to the ROK
•Mr. GANBOL, Baasanjav - Ambassador of Mongolia to the ROK
•Ms. O'DONOGHUE, Aingeal - Ambassador of Ireland to the ROK
•Mr. CALDER, KENT - Professor and Director of Reischauer Center for East Asian Studies, John Hopkins University, USA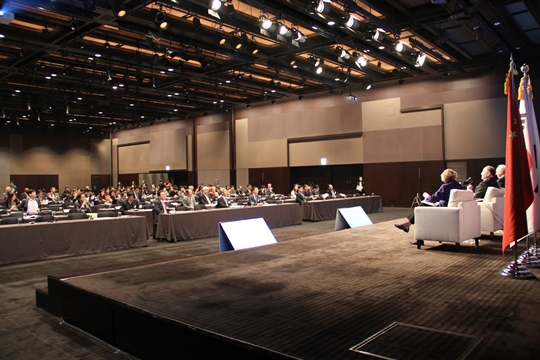 Session 4.

Towards the Perception of East Asian Citizen - Ways of Public Diplomacy

Moderator
•Mr. LEE, Geun - Professor, Seoul National University, the ROK

Speakers
•Mr. WAKAMIYA Yoshibumi - Former Editor in chief, Asahi Shimbun
•Mr. ZHAO, Jiaming - Director-General of External Relation Dept., People's Daily
•Mr. SONG, Hee-young - President of Korea News Editors' Association & Editor in Chief, Chosun Ilbo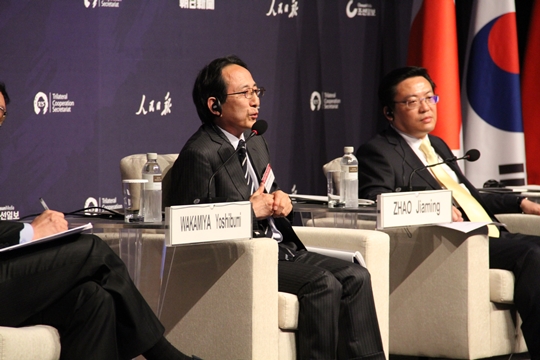 VENUE
PLACE

THE SHILLA HOTEL
신라호텔
ADDRESS

The Shilla Hotel, 249 Dongho-ro, Jung-gu, Seoul, ROK 100-856
서울시 중구 동호로 249 (장충동 2가 202번지) 우편번호 100-856
TEL

+82-2-2233-3131
TRANSPORTATION

SUBWAY Line No.3 to Dongdaeipgu (Dongguk University) Station, Come out through Exit No.5 at the station and walk along to the hotel's main gate