AGENDA
The Opening of a New Chapter for Trilateral Cooperation
The Past 10 Years, the Coming 10 Years
SESSION. 01

Connection the dots: Drawing Collaborative Roadmap towards Regional Peace and Co-prosperity

This Session will navigate each of the three countries' initiatives, while trying to identify their commonalities which can help drawing up a roadmap towards common strategies for regional peace and prosperity for the coming decade.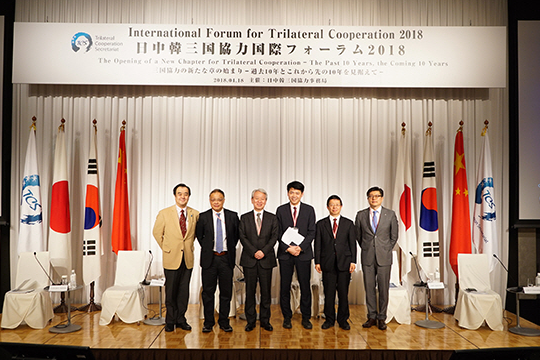 SESSION. 02

Institutionalizing Trilateral Mechanism fueled by Economic Co-operation

The aim of this session is to facilitate a constructive discussion on a new chapter of trilateral cooperation towards its institutionalization which may be triggered by economic cooperation to shape the coming 10 years' East Asia. The session will share ideas and insights on how the regional eco-nomic cooperation plays its role in strengthening the political and security stabilization in East Asia.
SESSION. 03

Co-Creating and Co-Sharing: Promotiong Future-oriented Trilater-al Cultural & People-to-people Exchange

THis session will bring together high-profile figures from the three coun-tries to examine current coopertaion frameworks existing in socio-cultural exchanges, and seek methods for its enrichment as well as to search for new insights to create highlights of cooperation and inject new vitality into Ease Asia with a long-term perspective.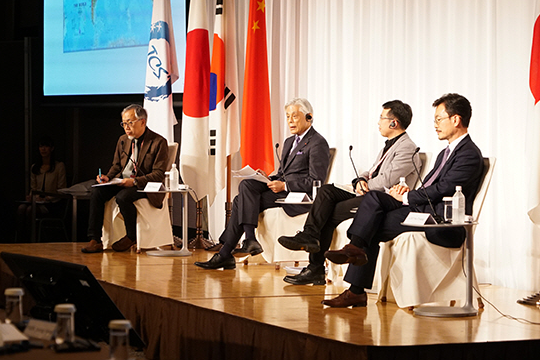 VENUE
PLACE

Ballroom "HO'OH", the Capitol Hotel Tokyu (1st Floor)
.
ADDRESS

2-10-3, Nagata-cho, Chiyoda-ku, Tokyo 100-0014
.
TEL

+82-02-3503-0109
TRANSPORTATION

Direct access to the Subway (Tameike-sanno Sta. / Kokkai-gijidomae Sta.) at B2 Floor, with connection to four subway lines: Namboku Line, Chiyoda Line, Ginza Line (220m) and Marunouchi Line (435m)
英文基本であり,韓/中/日の各言語の中で入力した一つの追加言語が見られます。